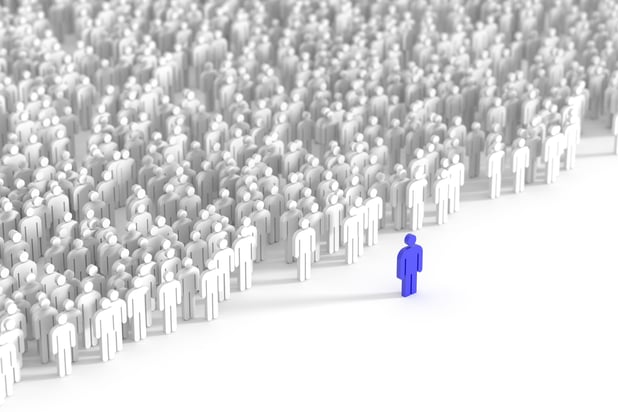 The goal is to move the crowd towards a new direction in our collective thinking to solve a problem.
Whatever you call crowdsourcing and there are many suggestions, the fact is that many communities are coming together, happening on-line, forming around challenges, ideas, projects, non-profits, people and important social and business issues. They are truly organic, feeding off all the contributions
You are the one performing, you are participating and delivering your ideas, thoughts, solutions into a community of others wanting to build from this diverse thinking to contribute into the challenge offered. Others are just simply reacting, responding, picking up on this surge of creative energy and collectively you combine to begin to build something that answers a specific problem. It lets all of us in, to participate and contribute.
Getting to this point needs a lot of organizing to set the scene, to provide us the connections, to see the possibilities, to allow ideas and suggestions to simply 'flow' and build.
Let's take a look at some of these building blocks and obstacles, the different understandings that needed to be understood:
Knowing what we are getting into becomes critical to want to jump in and participate
Designing the challenge becomes critical. We need to always know or believe it is crowd-worthy. It is these crowd-worthy challenges which trigger us into action.
It needs a significant thinking through if you want to delve into a real challenge; it can equally be a challenge that is simply one to 'put out there' to gather and illicit 'quick' opinions. Much of what we are doing is blurring and crowdsourcing is attempting to pick this apart to help.
Crowdsourcing comes in multiple guises
It took me some time to make these connections but these are all seeking out a digital crowd engagement. Crowdsourcing can be under social fundraising, collaborative consumption, customer co-creation, peer-to-peer economy, collective intelligence, open innovation and crowdfunding to name some, not all. They all are working within the crowd economy.
Crowd has become so fragmented, is this healthy or is it a present constraint for you?
The urgent need is to try and bring some organization into the variables offered under the broad crowd umbrella. It can be a real labyrinth of working out what you are trying to achieve, knowing where to go to mount your crowdsourcing challenge and who to work with to believe you have the 'best' and most experienced platform that can manage it. There are so many 'crowd' platforms set around tasks, content, innovation, funding, learning, testing, media exploration, cause-related, design, competitions, services, property, lending / loans, citizen engagement and travel.
There is a directory of crowdsourcing that becomes an essential 'go to' place early on to get your bearings on what is out there and can help shape your thinking and needs. It seems like there are new crowdfunding platforms launching literally every day, so establishing that your choice does have the 'right' track record, has been around long enough to build traction and a good reputation, becomes a major task in itself. Compare and contrast and read the case histories.
Ones that spring out for me as leading the crowd pack are Kickstarter, Rockethub, Patreon, Peerbackers, Indiegogo, Gofundme as well as Crowdcast, Quirky, Threadless and Mob4Hire.
Also Airbnb don't forget operates in this crowd economy. It is a very crowded (excuse the pun) and difficult place to start and figure out who to partner with. Finding the right partner to crowdsource with can clearly make or break any initiative so this validating needs to be undertaken well.
So what do you feel are the biggest concerns over crowdsourcing?
Will crowdsourcing provide predictable outcomes? No, everything you do to make for a good result still might not eventually deliver on this for all the preparation work you put in. You are literally in the hands of the 'crowd' and how they take to it or not.
The management time to oversee crowd efforts will seemingly seem excessive at times but then you strike "pay dirt" and then suddenly it all seems worthwhile.
You may seem to get great answers but these might only come from a narrow representation of the population and they can miscue your results if not spotted.
The reactions between those placing the challenge and the crowd can turn from friendly to hostile if the management of the flow and contributions are not managed thoughtfully.
Sometimes a crowdsourcing problem is hijacked by a party with a cause, or it becomes more of a competition between selected individuals that influence and shape the debate. The ability to build a greater collaboration gets 'beaten' back by these strongly-held views that overshadow the other voices you are wanting hear.
How do you deal with potential plagiarism, intellectual property rights or those deliberately seeking funds or engagement for their means? Is there opportunity for scandal or a potential for fraud? You at least require some awareness of these traps and have some part answer too in preparation, as they can come at you fast and furious or in stealth mode that catch you unaware.
Each of these mentioned above can be potential pitfalls that might put many off but this is a significant part of why partnering with established crowdsourcing platforms can help avoid these.
With the good partners you can separate their rhetoric from their strengths by judging how they are building an increasing "governance of understanding". They are working constantly on rules, language, technology, outreach, listening, content provision and focus intent, through a robust platform and analytical capability. Those partners are emerging stronger as crowdsourcing grows to be a partner of choice, the venue the crowd wants to 'surge' towards as they sense and feel the platform helps them and the contracting parties genuinely wanting to extract the best out of the crowd by addressing the pitfalls, and showing the ways they have resolved these in their emerging experiences and practices.
How are you thinking through a crowdsourcing initiative?
There are a host of issues to think through. Some of these are real challenges but you need some 'reasonable' semblance of understanding.
Resource Focus - not being able to align resources, culture and systems to drive interest.
Technology - not having the right platform to host the activity or the bandwidth to handle the flows both in and then back out from having a clear analytical capability to manage and build from this set of data insights.
Listening - not listening enough, not paying consistent attention but staying tuned-out and lacking the ability to respond, and build quickly enough on a promising idea to draw out more contributions from the community.
Content - not providing frequent and interesting content to build, feed off of and interact with. Not clarifying or framing enough at the beginning or along the way.
Constrained Outreach - not broad enough, constrained in resources, feedback or reaction so it quickly 'dies' as it is not 'dynamic' enough to gain the attention and attract a representative crowd so the result delivers poor value back.
Lacking a crowdsourcing culture - without dedicated passion within the group that is there driving the effort, or lacking the knowledge to fuel and build from incoming knowledge 'just enough' to build and connect this further stops the build. A climate of trust comes from this dedication and empowerment, and openly engaging within communities.
Lacking community management - which has to span resourcing, hosting, engagement, dialogues, responding to conversations at different peek and lull periods requires a strong resource commitment plan.
Rules and Governance that are not strong enough in their guidelines for all within the community to understand of where the lines, are and might become crossed. Or having experience in handling fast flowing legal, regulatory and management oversight issues, or simply knowing when to quickly refer these to those that can decide.
A lack of comprehensive tools - to provide all the necessary features to attract, tap into depth and enable customer engagement and feeling of contributions being read, and actively worked upon.
Then you have the internal ones to think through
How are you going to attract in the broader management understanding within your organization in accepting this activity? For instance:
Not being able to internalize the benefits and bring those inside the organization to yield a tangible 'commercial' or problem solved, the ideas remain just simply ideas.
The challenge although intellectually interesting, lacks the strategic focus that ties this to solving the business or social need specifically.
The lack of incentives both to those participating and in rewarding for the results 'kills' the end result.
Poor measurements that were unable to track, monitor and access success as the return on the investment limit any momentum going forward.
In all your determination to structure the crowd activity you can overlook that important part of a sense of identity. You fail to present your business in a real, human, personable and trustworthy manner and leave it too vague and open enough to not 'draw-in' as you would have liked.
Reading these I am sure it seems a daunting list but getting some sense or feeling towards each of these allows for a stronger result.
Finally we have the internal obstacles to overcome or address
These include:
Will the organization adopt crowdsourcing as valuable to have? What silo's of 'threat' need addressing?
Will there really be enough staff to manage this and all the demands placed on them to be engaged, open and responsive to those outside contributing in?
The senior managers that worry over a possible set of perceived risks, moving reluctantly from a status quo or a sense of losing control. How do you address these real concerns?
Suddenly having challenges or problems moving from the inside to the outside has to be managed, will the company culture accept this desire to be open enough on issues, challenges or problems it wants to find solutions too without 'tipping its hat' to the competition?
A sudden flow of ideas coming in will mean more legal, regulatory and management engagement than normal as the crowd may expect a fast reaction, and they won't recognize the internal hurdles or considerations involved. This becomes part of crowd management.
The sudden availability for technical skills or expertise, ready for a good honest dialogue often puts those expects on the spot, this needs handling carefully.
Many crowdsourcing initiatives do fail, you need to internally gain acceptance that this can happen and certainly will. You need to condition acceptance if they appreciate the real potential of the "raw" value potential. It is like VC investing, one big win dwarfs the losses of many promising ideas that did not make it but you needed seeding to try.
Launching a crowd initiative can have significant 'added' benefits
With all the obstacles, barriers and issues presented here, it might make you wonder if crowdsourcing is worth the effort.
Clearly crowdsourcing is not for everyone. Diving straight in might seem a great idea but the gradual learning approach by building scale and size in the challenge or problem to solve is a preferred route in my opinion.
Where can crowdsourcing work? It can be beneficial in the following ways:
It can deliver an awareness and buzz that provides positive publicity and value to you.
It can qualify and test emerging ideas and thinking early enough to gain significant improvements or recognition that they lack scale appeal.
It can simply be a primary source of engagement with the public and stakeholders and influencers to receive invaluable feedback and confidence of message, direction, contribution and value.
It 'puts out there' crowd-based challenges that bring to the surface fresh insights and raises alternatives to adopt and adapt within your innovation activity.
It can 'solve' problems from those normal non-traditional sources that it would be hard to reach and engage without a higher level of commitment.
You can keep crowdsourcing specifically for worthy causes that build social responsibility identification and contribution.
Make it a core part of your innovation where you are seeking out breakthrough new innovations that can radically challenge and alter existing thinking.
You can use it for launching and evaluating a product / service / idea or news-worthy event.
It can help drive overall spend efficiencies and saving costs through obtaining feedback and suggestions on improvements of service and seeking out comparable approaches the crowd is more likely to be aware of.
It allows participates to engage, seek dialogue and have conversations that build a sense of identity and common purpose.
Crowdsourcing is straddling so much today
It needs recognition of the real potential in crowdsourcing, when structured and formed well can be highly valuable and part of our learning journey to solving problems and challenges that might not be solved by internal means alone.
The overcoming of both risk and depth of understanding of what you are trying to achieve in its use is hard work to work through. So is the art of engagement with the crowd.
"Crowdsourcing is probing the experience economy, wanting to understand authenticity, explore privacy matters, pushing to form new connections, curate and filter lots of different stuff. Much of what we are doing is blurring and crowdsourcing is attempting to pick this apart to help".
"We need to tackle globalization issues, we need to come together to solve problems that impact lives, we worry over security, we seek to customize many things, we seek alternatives, we are tackling convergence in different ways, we are seeking out the freeing of our time far more than in the past. We are seeking growth in all business sectors. Crowdsourcing can help in all of these"
Crowdsourcing has a real potential but does have formidable issues to be well understood and managed. Partnering with experts in this field will help overcome many of these barriers or at least have reassuring suggestions for resolving them.
Over time we will learn what works for us and to be in a clear position of recognizing the value of crowdsourcing within our terms and circumstances. That is why it will be really hard to cite 'best practice' as each crowdsourcing challenge will require different inputs and will yield very different outcomes for each unique challenge or problem raised. Each crowd will be different, that is its value, in attracting a highly diverse, hard to reach community that is looking to contribute, sensing their voices are wanting to be heard and being valued gives huge potential to solving specific issues.
I clearly would recommend you can build from small pilots towards larger scale, allowing those around to learn, value and appreciate the contribution that crowdsourcing can give us as a rich source of fresh ideas from broad or targeted communities, not easily obtained by any other means.
Related posts...