April showers bring May flowers / That is what they say but if you are a business owner in Europe, the showers and flowers likely stand for the tax declarations that need filing before a fresh fiscal cycle can begin. Not surprisingly, whenever money matters are involved, taxpayers and tax authorities alike become creative and not necessarily in a bad way. Last month I stumbled upon a great story by Eva Hershaw of the The Atlantic describing an unusual payment in kind programme, Pago en Especie, in Mexico that allows prized artists to pay federal income taxes by donating some of their original artwork to the state. Initially devised in the late 1950s, the program has gained immense traction and is now enjoyed by more than 700 painters, sculptors, graphic artists - even performance art is pending as a means of payment too.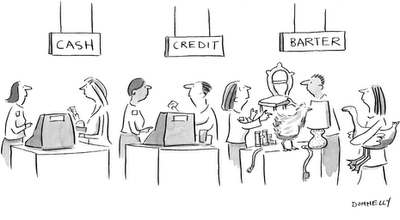 Image source: http://2.bp.blogspot.com/-OU183gOwEIw/UtQXwa1UqKI/AAAAAAAAAgQ/46EVOFxqFFI/s1600/barter.png
Unique as Pago en Especie may be, the Mexican initiative is, in fact, part of the broader, increasingly relevant topic for innovation professionals: cashless business models / deals. In two words: institutionalized barter. Digging into the management literature will reveal exciting research on the topic, my favourite being Andrew M. Kaikati and Jack G. Kaikati's Doing Business Without Exchanging Money: The Scale and Creativity of Modern Barter published in the Winter 2013 issue of the Sloan Management Review. In as follows is an "organized walk" through their excellent work.
As with any SMR publication, the two authors begin by drawing the reader's attention to the angle of the research: although money plays a key role in modern economies, they argue, a growing number of business is being carried out without it. Hence, Kaikati and Kaikati set out to explore the origin and importance of cashless deals, the factors fuelling their development and the guidelines for negotiating moneyless exchanges in key areas such as crowdsourcing or word-of-mouth marketing.
Other interesting points in the introduction include the following facts:
- the definition of cashless deals: economic transactions with clear economic implications, involving the exchange of goods and/or services without the use of money, and distinct practices to the likes of sharing, ceremonial exchange, and gift giving;
- there is surprisingly little knowledge about what drives moneyless exchanges within industrialized countries;
- global barter transactions account for approximately 23% of the total value of worldwide business transactions (estimated at $15.9 trillion);
- nearly half of business owners (45%) are open to trading for new goods or services with customers or suppliers and nearly one-quarter (23%) report that their barter activities have increased due to the harsh economic environment (source: American Express OPEN Small Business Monitor survey);
Building on these facts, the authors continue with a section on the development and types of barter. We find out, for example, that while some deals are used as a means for coping with external environmental factors, others are less tied to the economy and present opportunities for structuring substantially new business models.
Next, we are presented with a conceptual framework to distinguish between the main drivers – or factors that fuel the prevalence - of cashless deals. The classification is depicted in Table I and includes:
- short-lived contingent deals, either survival-oriented or growth-oriented and
- the more longer lasting, even permanent deals called structural.
In a nutshell, while contingent deals (e.g. Diageo, Active International) stem from external pressures, including adverse economic conditions such as the financial crisis and credit squeeze, as well as legal regulations, the structural deals however (e.g. BzzAgent, Barter Theater) are long-term oriented and focus on prospects for sustainable growth, by staying ahead of the curve to outsell, out-service, and outshine the competition. An additional table (not included here) summarizes the benefits stemming from cashless deals and notes the various case studies observed and analyzed.
For survival-oriented contingent deals one of the examples given is that of Diageo, the world's largest spirits company, which had resorted to a form of contingent asset arrangement to plug its pension deficit. For growth-oriented contingent deals, another example depicts how manufacturers like Active International exchange their unwanted products or services for other desired goods or services via corporate barter companies.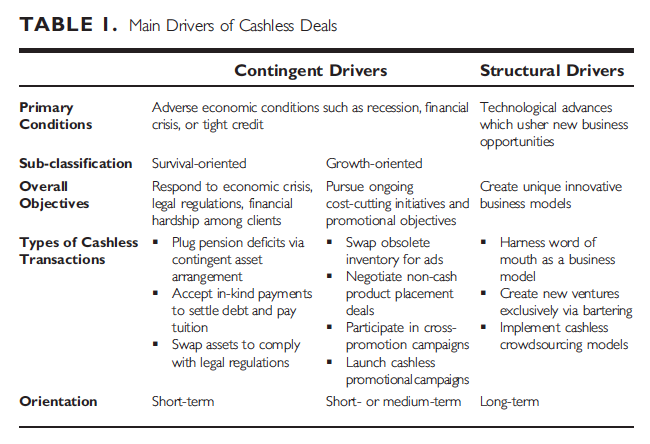 (source: M. Kaikati and Jack G. Kaikati's,Doing Business Without Exchanging Money, 2013)
EXTRA RESOURCE: Though not explicitly mentioned in the paper, BarterNews.com offers a comprehensive, freely searchable database of companies specializing in barter all around the world. In Belgium, for example, The Efficio Group is just one of the entities helping luxury brands (and not only) free themselves from unwanted stock through an innovative barter credit system.
Zooming in for a moment on the latter category, the structural deals, we are presented with three well-established, well-functioning examples of new, cashless business models.
The first, harnessing word-of-mouth (WOM) marketing (as a viable cashless business model) refers to either companies like BzzAgent - more than 2,000 WOM campaigns orchestrated for a diverse host of clients, including Michelin, L' Oreal, Wrigley, Unilever, and Philips - that have the ability to recruit 4,000 volunteer agents/ brand evagelists for 12-week periods at a time, or to multinationals' tailor-made, in-house buzz-building capabilities like P&G's Tremor (Tremor targets influential extraverted teens that are screened for their propensity to spread the word about products to their friends).
The second business model highlighted by the authors is starting a new business venture exclusively via bartering and brings us back to Pago en Especie, mentioned at the very beginning of this post. In their paper, Kaikati and Kaikati chose Barter Theater as the main illustration of the case in point. Its inspiring concept "ham for Hamlet" coined in 1933 and allowing patrons to pay the admission with farm produce still lives on today: at least one performance a year celebrates the Barter heritage by accepting donations for an area food bank as the price of admission. Other selected examples include BookMooch or SwapBabyGoods.com.
The third and final model focuses on the implementation of cashless crowdsourcing models, specifically the types in which contributors receive to remuneration whatsoever. Wikipedia, for instance, relies heavily on legions of "anonymous" contributors from all across the globe to collectively write, edit, and link web pages on a single shared document. Other success stories mentioned: TripAdvisor, Yelp and social media sites Facebook and MySpace.
Having examined the cases, and through them the nuanced nature of contingent and structural cashless deals, the paper draws to an end by summarizing the financial and non-financial challenges of such arrangements. In the former category the most relevant include: reporting and tax implications; inaccurate estimates of the profitability of the cashless transaction, difficulty in determining the monetary value of goods accepted/ offered, while in the latter: lengthy negotiation and cumbersome execution or ethical and legal issues that can leave scars (e.g. class action lawsuit against the Huffington post) are emphasized.
Finally, Kaikati and Kaikati conclude their discussion with prospects vis-à-vis the evolution of the modern barter movement. Hence, though the methods presented have their limitations, the rewards of implementing cashless models are expected to outweigh the administrative burdens and costs. Taking the categories one by one: the popularity of survival-oriented contingent deals is expected to remain in place as long as the economic conditions demand it; growth-oriented contingent deals will likely continue flourishing as companies pursue their objectives in an increasingly competitive and global space, while the structural cashless deals are expected to surge in popularity regardless of economic conditions. The latter, as the authors explain, is fueled by the relentless drive of entrepreneurs and innovators to explore technological developments to create new innovative cashless business models that enable companies to outshine, outsell, and out-service their competition in the long run.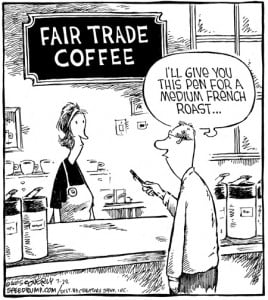 Image Source: http://kanatyler.files.wordpress.com/2012/06/the-barter-guru2.jpg