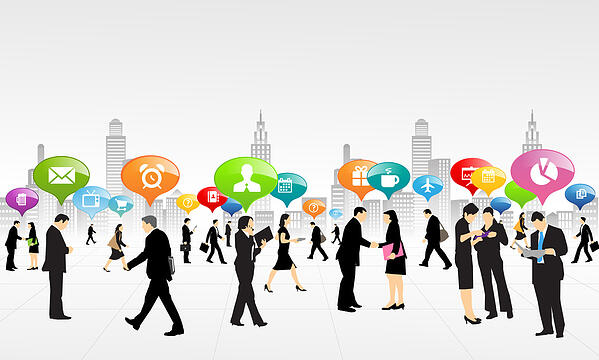 Is your social community alive? Or has the social business tool - that your company introduced two years ago - turned into an abandoned repository? For a few years now we've heared the mantra that companies need to transform their communication strategy towards social business. However, although repeating the mantra over and over, many companies fail to establish a sustainable adoption of the social software of their choice.
In her talk "Avoid Being a Social Zombie in a Global World" at IBM's conference Connect 2014, Sandy Carter identified ten driving factors why companies should care about their social strategy, whether their social communities will be alive or "blogging dead". Two of these factors attracted my attention in particular.
"Social Analytics is the new black: spending on marketing analytics is expected to increase 60% by 2015". Data that is collected in social media networks will be used in more depth than before to develop better products, and to do that more efficiently. Seth Meyers, known for NBC's Saturday Night Live, was a keynote guest speaker at Connect 2014. Before he meets applicants, he reads all their tweets of the last twelve months. This way, he gets a pretty good impression if they are funny or not.
Our social profile is not a private playground any more. Five years ago, we were solemnly shaking our heads when we've seen pictures of drunken colleagues on Facebook. Today, "70% of HR professionals in the U.S. had rejected job candidates due to what they found regarding those individuals online." (Source: Sandy Carter's slides, or: 2013 Global Assessment Trends Report). There is already a scoring system that rates people's social influence. KLOUT assigns each profile a value between 0 (non-existing) and 100 (heavily influencing person). Within her talk, Sandy Carter hinted that for some positions a score of at least 60 will be required. Like it or not, but social profiles will have impact on careers, and already have.
Of course, not only social profiles of individuals get our attention. A company's page on Facebook is managed professionally, but often its recognition is not measured very well. This is the second factor that raised my interest: "What is the formula to tie ROI to social efforts?"
Enterprise social software like IBM Connections, Jive or Yammer became quite popular in recent years, and measuring their return on investment is still no easy job. IDC's paper "Determining the Value of Social Business ROI: Myths, Facts, and Potentially High Returns" helps finding correct answers.
With our modules for IBM Connections, Jive, and Yammer, HYPE integrates innovation management into social software. On one hand, innovation campaigns are now visible to and easily accessible by social software users which boosts participation to a higher level. On the other hand, innovation management must then be seen as a part of social business, turning ROI numbers based on innovation into reason for social business.
Innovation management platforms are broadly about two things: 1) fostering a culture of innovation through online collaboration, and 2) generating a real return on ideas. These two can be seen as an example of measurable success in innovation management:
Nokia Siemens Network generated $300m in additional revenue in a six-month campaign in 2010.

Deutsche Post DHL generated €220m in savings in 2010.
It takes more than just throwing up a tool to reach those two broad goals and the kinds of results seen above. But innovation management providers like HYPE are solely focused on achieving those for companies. By integrating that know-how with social business platforms you can really accelerate ROI and purposeful engagement.