Continuing the "Best Of The Bonn Forum" series, this next post is all about some of the handy (and often surprising) resources our presenters used to refine and redefine their innovation processes, principles and culture. From "children's" stories to established toolkits and cutting-edge software & algorithms, getting innovation started is as much a science as it is an art.
"How Stella Saved the Farm"
Mentioned by: Steve Dannan at Interserve
Used to: Enhance the company culture, create guiding principles, and stimulate energetic and non-defensive conversations about how to become a more ingenious (innovative) organization
Results: A robust innovation framework and governance system that captures and nurtures good ideas; a more cohesive innovation community; a better reward system.
Full presentation: https://www.youtube.com/watch?v=KXF4MTIycTQ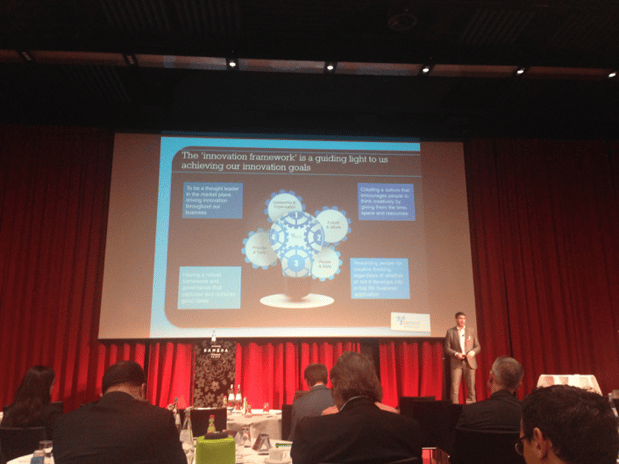 Steve Dannan explaining the framework inspired by "Stella Saved The Farm" at Hype's 2016 Innovation Managers Forum
Authored by Chris Trimble and Vijay Govindarajan, faculty members at the Tuck School of Business in the US, How Stella Saved The Farm is a 60-90 minute "light read with very serious intent" about making innovation happen. Using simple yet powerful metaphors (every detail is based on a real observation at a real company - e.g., AT&T, IBM, GE, BMW, John Deere etc.) and all the elements of a blockbuster film (big ideas, conflicts, obstacles, fears, joys, calls to action, triumphs and even a love interest), the book tells the tale of a farm in trouble and how it innovates to get out of the trouble. At Interserve, "How Stella Saved The Farm" rescued the company culture and inspired a brand new innovation framework based on thought leadership, respect and adequate rewards.
Adobe's Kickbox
Mentioned by: Elaine Bromell at Virgin Media/ Liberty Global Ireland
Used to: Design a curriculum program ("Matchbox") that teaches innovative thinking
Results: A personalized "box" that develops enthusiasm, skills, autonomy, and mastery in those that execute innovative ideas; more engagement
Full presentation: https://www.youtube.com/watch?v=AECfu76atwY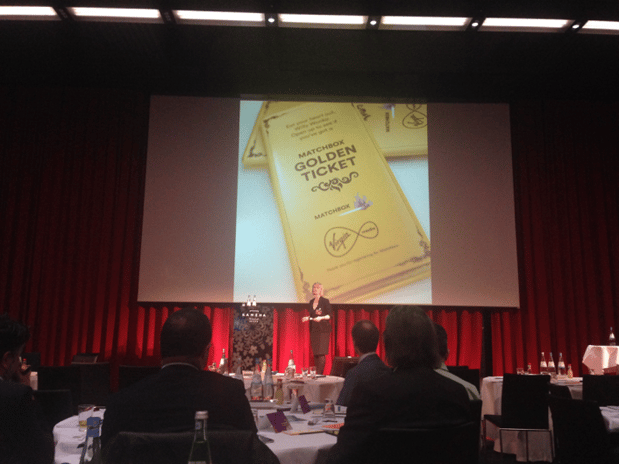 Elaine Bromell detailing the "Kickbox" program at Hype's 2016 Innovation Managers Forum
Adobe's Kickbox is an open sourced, freely downloadable innovation program & toolkit inspired by the multinational software company's 30 years of experience with new product, service and process development. Each red box contains everything an enterprise or individual innovator typically needs, including: (1) Money, in the form of a pre-paid credit card; innovators use these funds to validate their ideas; (2) Instructions, in the form of reference cards; each card includes a checklist of actions innovators must complete to advance to the next level; (3) Other innovation tools, in the form of scorecards, frameworks, exercises, and visual materials used to develop ideas and finally (4) Caffeine and sugar.
To date over 1,000 boxes have been distributed to Adobe employees around the world and the initiative has inspired countless organizations to customize their own. At Liberty Global, the personalized "Matchbox" also contained time for innovation – i.e., a half-day every week for 2 months to develop ideas.
Watson and Apple's HealthKit
Mentioned by Andreas Schindler at Merck
Used to: Think more deeply about digitization; build a digital ecosystems around products
Results: More success with Open Innovation and co-creation
Full presentation: https://www.youtube.com/watch?v=NQYe52EmGrc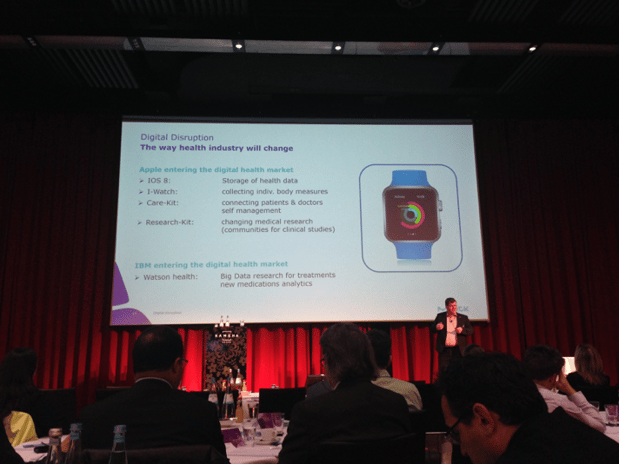 Andreas Schindler explaining how digitization is changing industries at Hype's 2016 Innovation Managers Forum
Watson Health, also known as IBM's Watson Health Unit, was launched in April 2015 as a continuation of the company's unique cognitive technology – i.e., the technology that won Jeopardy! given its ability to processes information more like a human than a computer. While the original Watson was designed to generically understand complex questions and analyse unstructured data, its new application is dedicated solely to "improving the ability of doctors, researchers and insurers to surface new insights from the massive amount of personal health data being created daily to deliver personalized healthcare". In a recent press release, IBM announced its partnership with Apple in the context of the Apple HealthKit and ResearchKit. With mobile devices capturing more and more health data from consumers, cognitive computing can be employed to improve health and accelerate research. At Merck, Watson Health inspired a bold move towards digitization, including new business models and more customer co-creation.
Related posts...