As you've probably seen & heard by now, John Bessant's talk on learning the new innovation game wasn't the only intellectual delight (+ conversation starter) at this year's Innovation Managers Forum in Bonn. Robert (Bob) Neuhard, Executive Director for Operational Strategic Initiatives at the University of California, San Diego (UCSD), delivered an equally rich & entertaining presentation on "new school" crowdsourcing or "Leveraging Collective Genius to Deliver Innovations that Advance Strategic Objectives" at his institution. Below, a summary of this talk, but the full talk is available to watch at the end.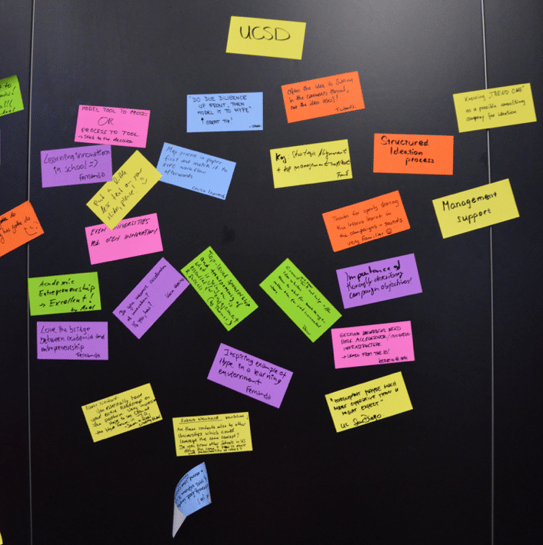 The writings on the wall after Robert Neuhard's talk at the at Hype's 2016 Innovation Managers Forum
It all started with a plan…
Like all great innovation stories, UCSD's too started with a mind-set change and a plan. Specifically, it started with the prestigious institution's first ever attempt to create – through unconventional means – a unifying strategy to guide decisions, improve resource allocations, and help seize opportunities that enhance its distinctiveness, quality and benefit to the surrounding community. To do this UCSD designed and rolled out a "comprehensive, inclusive and bottom-up process that engaged more than 10,000 campus and community members". In layman's terms: a large-scale, campus-wide idea campaign to help create a better, more successful future for the university and its ecosystem at large.
… to accelerate innovation
While straightforward in theory, leveraging collaborative genius at UCSD to formulate a new vision & mission turned out to be a knotty task. In Bob's words: "It was done step by step and without a clear idea of what the outcome might be. The bar was set low to not disappoint". Ultimately, the crowdsourcing exercise was made possible thanks to strong top management support, countless iterations, an adequate online and offline infrastructure and most importantly, having a "broad voice" on what the university should become – i.e., university-wide participation. All in all, 10,000+ people contributed, helping put forth 5 transformational goals, 13 strategies and 4 research themes.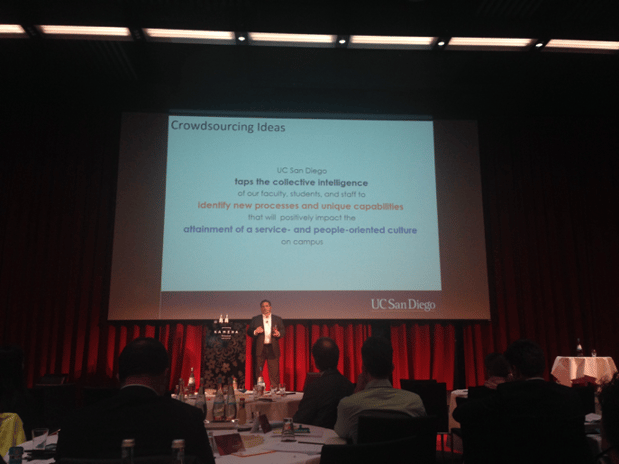 Robert Neuhard summarizing his organization's mission at Hype's 2016 Innovation Managers Forum: "UC San Diego taps the collective intelligence of our faculty, students, and staff to identify new processes and unique capabilities that will positively impact the attainment of a service- and people-oriented culture on campus."
And then there was a platform
Having successfully engaged the community into an initial multi-disciplinary dialogue, it was now time to polish the process and launch more targeted initiatives. This is how IdeaWave, a crowdsourcing platform that housed idea campaigns related to areas of strategic importance to UCSD, was born. On this platform, faculty, staff, and student employees alike were invited to continue the initial conversation by submitting more fresh ideas, building on the ideas of others, collaborating to create new suggestions, and/or voting on submissions they would like to see progress on. As one headline on the IdeaWave website read: "transparent, collaborative, and constructive exchanges are key to IdeaWave's success". That was, no doubt, the case.
The first wave of campaigns
The first wave of campaigns – identifying ways to make new hires feel more welcome, prepared, informed and engaged with the University and suggesting changes in specific administrative processes and policies – received strong sponsorship and sponsor engagement, set fairly clear expectations of what will happen to submitted ideas, created constructive dialogues and even led to immediate improvements (some solutions were adopted within hours!). On the flipside, it also unearthed some serious challenges: scoring and review was time & labour intensive, insufficient clarity of evaluation process and expectations about it, little transparency regarding how post-campaign actions were taken or implemented, inadequate thresholds on what information to keep or discard after campaigns close and (the really big question): does the crowd believe that their ideas are useful?!
"Show the contributors where you want to go, what the pain will be, and ask them to pitch in!"
The second wave of campaigns and some "new school" crowdsourcing
Eager to get better at the innovation game, UCSD soon launched a second wave of campaigns around improving the employee appraisal process, managing event-related transactions at the university and notably, commuting. Unlike the first time, however, the unavoidable complications were approached with fresh eyes and arguably, more optimism - hence the term "new school" crowdsourcing. What followed were a host of new successes – e.g. submitted ideas continued to be implemented, leadership became even more supportive of this initiative and IdeaWave's popularity rose, as well as new points of improvement – i.e. users failing to read full campaign description, ideas and dialogues not getting to the root cause of the issue or increasing cadence of communication after campaigns close. The iterations went on.
Bob concluded his presentation by briefly mentioning UCSD's new model for research collaborations (highlight: an interdisciplinary database of inventions and discoveries to fast track technologies with commercial value), taking some questions from the audience, and revealing more personal lessons from his experience with leveraging collective genius at UCSD:
honesty is also important in the learning process;
do not automate a broken process (fix the process first, then go digital);
do due diligence upfront and model it to HYPE (to the software);
show the contributors where you want to go, what the pain will be, and ask them to pitch in!
Watch the full talk: