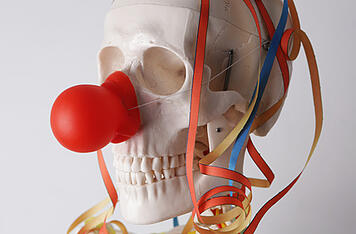 Working with humor is fun. Not only does laughing keep your skin young and agile, it is also a panacea to a lot of the stress and politics we endure in working life. However, many coworkers confide to me that their work is so boring. That there are colleagues out there that only collaborate in name, not in reality. That they go up the corporate ladder thanks to brown nosing and behind the back behavior, instead of working together in a harmonious way. That they actually harm the brand they are working for, but nobody cares because they make money.
To commemorate the soldiers that have gone through the too seriously rabbit hole, here is an obituary…of that we should never forget to collaborate and live life. Here's to you Fadie!
OBITUARY
Fadie Von Ashol – Made Money and Lacked a Soul …
Fadie Von Ashol, the man who worked only to make money for himself and his family, died yesterday after falling off his bicycle on the Brooklyn Bridge. Although he was quickly admitted to Crookwood Hospital in New York, he gave up fighting for his life after he realized he had wasted 44 years of it as a tool. He was 64.
Although Von Ashol's work was rooted in the corporate tradition of a typical mid-size organization, he really stood apart as a man who had failed to foster much of a connection to life. ''He never smiles, so we promoted him,'' his CEO wrote in the company's annual magazine in 1980, "for years, he was the most cynical guy of the team until we gave him a second promotion for his extra nifty comments".
''He plays the helpful guy when he knows there is something in it for him. His ability to produce work using 60% of his efforts is outstanding – a model employee. He always under promises and as a result his performance is above average! Von Ashol really makes use of being competitive with his colleagues, he makes you feel that there are plenty of opportunities but really he closes all the doors before you could even consider them.''
'An Original Robot'
Joe Cockie, a co-worker who studied with Mr. Von Ashol, called him ''as completely unoriginal as it is possible'' and he cited the unifying ''dullness'' in his presence. ''Not that he was completely useless to ruining team morale,'' Mr. Cockie explained, ''but he would always come off as someone you would simply never want to date. In business nor in private life. A sneaky bastard."
Among his best achievements included his contribution to the cost cutting layoff initiative and his annual strategic presentation on how to increase sales and rip people off on an annual basis. His presentation skills were stellar among his ability to make himself look better than the rest of his team. "He never gave any of the interns credit for helping him", Mr. Cockie added. Office secretary Jane Osbourne described his leadership as ''dissonant and trivial advice that would give you the sensation of entering the darker place.'' When Mr. Von Ashole attended industry conferences, the guest speaker turned to him and asked if he would ''demonstrate how to climb the corporate ladder and ensure everyone else dislike you.'' He received a standing ovation.
Appearance Was Reality
His way of dressing was unbeatably repetitive – he would wear the same suit every day, alternating between pinstripe and black. He insisted that he "liked to limit the amount of decisions he had to make in a day." He extended his wardrobe moderately in the 90's when he received a bonus. "I bought myself a Rolex," he proclaimed. "I wanted to ensure everyone else would envy me at the office." Mr. Von Ashol once explained the difference between himself and the executive team with whom he often associated himself to amongst his colleagues: ''They often ask me for my opinion on the projects. I have no clue but I sound confident, so they believe me."
A Self-Taught Wonder
Mr. Von Ashol was a man of unwavering conservative principles, strong opinions and sardonic wit. When a previous co-worker Joey Brightn'nice told him that he was going back to Business School, the largely self-taught Mr. Von Ashol remarked, ''You got into Yale, I hope you don't come out any more useless than you are now - just joking." But he was not joking. Yet, despite his corporate background, Mr. Von Ashol grew up in what was considered a normal family. His father was an auto technician while his mother worked as a nurse. He was a "meat and potatoes kind of guy" and he always did relatively well in primary and secondary school. He was even once considered active, with yearbook photos uncovering that he was part of his high school's water polo team. One day however, he started his first job as a bank teller. Likely, he fell victim to the social pressures of moneymaking and out of fear of losing his job, continued down that path. Mr. Ashol, who lived in New Jersey, N.J., in recent years, is survived by his wife, Jessica; a son, Fabio Jr., who is a hockey player; a daughter, Betsey, who is a ballerina, and a dog, Rover. A funeral service will be held next Tuesday at 10 A.M. in St. Emmanuel's Church, Lexington Avenue at 54th Street. His body will be at the Peter Huber Funeral Home, 42nd Street and Second Avenue, Saturday from 2:30 to 5 P.M. and Sunday from 9 A.M. to 8:30 P.M.
Have fun...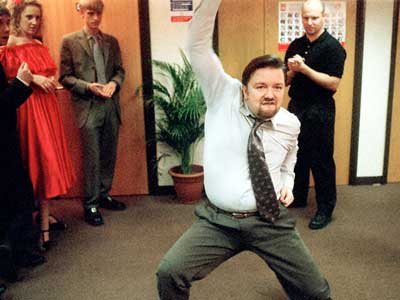 Note: Special thanks to Alicja from www.chiefhumorofficer.com, who came up with all the puns and the jokes…;-)
Related posts...