One of the questions that nagged on me during the nights was what I was giving back to society. Mind you, at the time I was a banker, but I know from many of my friends they have these kind of moments of contemplation as well. Some of them went into the field of humanitarian aid, others to sustainability. I decided to focus my attention to the field of education.
Actually, quite a lot of good stuff is out there. MOOCs are a great accelerator for disseminating knowledge. Khan Academy, for bringing "boring" and complex topics like mathematics to life in playful videos. Kaos Pilots, for focusing on the new attributes so much needed in the workforce. Entrepreneurship and innovation is studied a lot. You see a rise of coding schools nowadays as well, with a USA West coast kind of zeal to turn us all into programming robots. Not sure if that end goal is a good idea, but at least they try!
Standing on the shoulders of giants
I started to look into the results of all these efforts. So more people get educated, one of the prime indicators for prosperity. But what happens to the byproducts, the knowledge and the talents? Soon, my team and I realized the concept of sustainability had not yet entered the education thinking. If you would throw away your plastic cup in the forest, any bystander will now ask you to pick it up. "Recycle you idiot! We only have one planet!" I am proud to live in times like these, where we take responsibility for our actions. However, most theses and papers of graduates are not being re-used. As their one big accomplishment, it seems to attract dust in the drawers of universities or x amount of TB storage drives, not to be looked at again.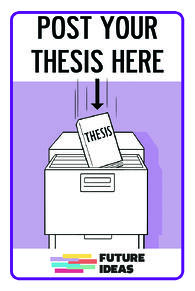 In many cases, this is not bad. After all, we can admit some of this work is just a rite of passage. Many theses do not stand out in readability or innovativeness. Some actually do - because they are fresh, because they enhance serendipity in our minds. And that is something good. In this search engine dominated world where all the links that are shown are paid for or act as a huge commercial filter, we need to be surprised at times. This is where the big data of theses comes in. Because many of them make us learn something new. Some may say this is the Infinite monkey theorem. Given enough time, even a chimp punching at random on a typewriter would almost surely type out all of Shakespeare's plays. Perhaps, but if we want to progress education, we certainly need to cherish the end products more. All you need to have is a new or additional filter to get to the gems.
Future ideas: your melting pot of serendipity
So we started changing our part of the world by valorizing the knowledge that resides in theses. Since the start of the competition in 2012, we have been very happy with the high level of the entries. Take any kind of topic and most likely it is there. Connecting dreams to your coffee machine, yup. Social media prediction tools, gotcha. Our third edition at the end of 2013, received close to 400 theses on many different topics from highly skilled participants from all over Europe. If you love the energy field, you will be happy to see so many talented people thinking about solutions. The same applies for social cohesion in society. We have seen several on these topics, covering areas like Brazil or the Sahara environment. Bio mimicry of vessels, learning piano in an innovative playful way, robotics, light architecture. It is all there. For the diehard innovation lovers, don't worry… all new and fresh academic work on how to kill projects, lean to the max, social behavior of innovation managers and how to really use crowds to you own business benefit. Some of them are even directly applicable to your business. And, if you want see the world of (bio) chemical or medical engineering evolving, search no further, welcome to the land of honey and milk!
A new future is out there
We feel so lucky being able to contribute to the future of education. With the aid of many jury members and organizations, we have valorized many theses and helped the actual authors. Finding a job for some of them, connecting the knowledge to some companies or accelerating the young talents by giving them opportunities. Soon we will launch our worldwide competition. We easily expect over 1,000 smart minds to contribute. Those minds will use their entry ticket, a degree from a university, to describe their "This I Believe" manifesto on the future of health, design, etc. We look forward to that, because we believe in the progress of science. Going to edge of what we know. Why? Because we can, and so can you.
And as detective Columbo used to say… "just one more thing": If you want to use, or want to connect to any of our participants to offer a job, please go ahead! All we ask of you, to let us know if you do. This way, we can share that with other stakeholders and keep track of the positive effects Future Ideas has for all parties concerned.
Let's create the future together. Be awesome!
Note: HYPE Innovation has been a great partner for us for over several years. We want to thank them for their support and fun!