Every year, new tools, technologies, practices, and even full-rounded ideologies invade the innovation space. Those of us working in this space witness this change daily as we watch projects reach (or miss) their targets as a result of new information and tools used. However, the real changes in how we manage innovation are even more evident when innovation managers gather to share their stories of success and failure at industry events like INNOVATE Bonn, HYPE Innovation's annual customer forum.
From a focus on software to a focus on software's jobs-to-be-done, the Bonn Forum has become a melting pot of ideas and guidance. Specifically, guidance around how to effectively design and execute on innovation management programs with stakeholders inside and outside the organization. Topic-wise, the event has also experienced a shift as many discussions at this year's forum focused on practices to retire as well as practices to keep.
We boiled these learnings down to four things innovation managers should avoid when managing an innovation program – and four methods to implement instead.
When addressing culture…
Understanding your company's attitude towards innovation and collaboration, as well as its culture overall, is essential to the health of an innovation program. According to David Willets, UK Head of Innovation at Baxi Heating, "…creating an environment where culture and strategy can eat breakfast together" will pave the way for true transformation.
Yet, trying to form a single culture leads to conformity and reduced flexibility. Cultural diversity is a critical component of success. Empowering the organization to speak and act respectfully with dissenting opinions creates an atmosphere of trust and willingness to share.
According to Professor John Bessant from the University of Exeter, innovation managers should survey and understand the various innovation-related behaviors and attitudes, as well as the values and beliefs in their organizations before planning the next steps of their cultural transformation – i.e., creating a high-involvement innovation culture. As Bessant writes in his whitepaper, "A Maturity Model for High Involvement Innovation":
"An important part of any organization's culture is the way it handles the idea of innovation. We'd expect to see structures for creating ideas and developing them into something which creates value. There would be reward and recognition systems in place, measurement frameworks, resource allocation rules, all sorts of things to enable innovation to happen. People working within this system would behave in particular ways, reflecting their shared belief about innovation."
An innovation culture survey can lead to interesting and sometimes surprising results; for example, discovering that it's not one but many innovation cultures that develop and co-exist.
"In a perfect world, the values and beliefs of all innovation groups within an organization – whether in marketing, R&D, procurement, or elsewhere – would align and collectively support the overarching innovation strategy."
Innovation managers in pursuit of a unifying culture, and arguably of happiness, must plan their steps carefully. After first examining your organization's culture, continue by making small changes introduced in stages. Instead of dictating directives to employees, reinforce existing productive behaviors – e.g., welcoming ideas from all corners of an organization or cross-departmental story sharing – and gently discourage destructive ones – e.g., creativity seen as a threat to productivity; also, secrecy and suspiciousness.
Practice to retire: Creating a single innovation culture at any cost
Practice to keep: Examining and understanding culture in your organization. Then, bridging the many innovation cultures that already (co)exist
When addressing scale…
The number of ideas generated in an innovation program alone is not a good indicator of success – it is a vanity metric. While focusing on specific audience groups for specific tactical efforts might not sound like a lot of fun, resisting the temptation to "go big or go home" can produce impressive results in the mid- and long-run. See an example from Nokia in this case study.
According to CommScope's Director of Global Innovation, Lauren Miller, going "Oprah Winfrey on people" – i.e., enabling everyone in an organization to share their input simultaneously – is a sure-fire way to garner company-wide excitement. At the same time, innovation managers agreed that this practice is also a guarantee of burn-out and frustration for the campaign/challenge teams. While every opinion in an organization matters (in theory at least!), not every opinion should be solicited on every occasion. To avoid nasty pitfalls, filter your topics down, write clear, engaging questions around them, and then invite smaller, yet diverse audiences to contribute.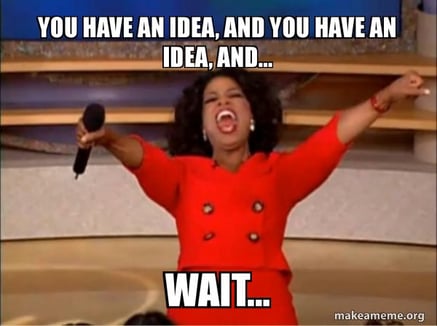 Once they've established confidence in the innovation management process, organizations can become more ambitious. When addressing the scale of your program, aim first for small, quick wins to build credibility. In the long-run, however, aim for 10x, not 10%. In other words, invest in radical and strategic projects to complement the tactical and efficiency projects in your portfolio. A great example is Airbus. In 2015, Airbus Helicopters launched an open innovation initiative to engage more effectively with suppliers and find potential breakthroughs. This initiative functioned as a "Match.com" service for technology and enabled small and medium enterprises to promote their technology to Airbus Helicopters.
Additionally, you must do more with what you already have and what you already know. For example, before pulling in additional knowledge and insights from external audience groups, look for opportunities to exploit ideas, concepts, and projects that you might have previously shelved.
Practice to retire: Adopting the "go big or go home" attitude
Practice to keep: Gradually building confidence in the innovation management program, and choosing your audience wisely
When addressing your organization's broader role…
No organization is an island. I didn't say that. NASA did.
While every organization should know and nurture their core capabilities, it seems that many organizations are still overly reliant on their (historical or perceived) strengths. Just as the myths of individual brilliance and self-sustenance are debunked in works such as Steven Johnson's "Where Good Ideas Come From," notions of organizations that can succeed without outside influence ring hollow. It's fair to say that the entire open innovation movement was a result of organizations realizing the limitations of their own capabilities and knowledge.
And while innovation powerhouses still exist – i.e., Netflix, Amazon, Tesla, or Marriott – their successes are not built on in-house capabilities. Instead, they're built on the ability to create portfolios, networks, and even ecosystems with organizations around them. For example, the innovation teams at Fujitsu developed a framework called Activ8. This framework facilitates customer co-creation as well as communication and resource sharing with the organization's broader ecosystem. By bringing together people from different organizations, be they researchers, customers, or even competitors, Fujitsu can generate more value than it could ever create on its own.
Generally speaking, the ability to leverage strategic suppliers, startups, researchers, students, end-users, and even society, can open vast opportunities for innovation. It can also create more impact and address more complex or pressing topics than would be possible if organizations worked alone.
To harness the power of external audience groups, start by assessing your innovation maturity. For example, survey your organization's values and beliefs around open innovation, as well as what structures are in place and what processes exist (some might need reconfiguration). Next, map out your stakeholders and understand the relationships between each. Finally, develop strategies to engage in productive dialogue with audience groups to explore opportunities.
Practice to retire: Treating your organization as an island
Practice to keep: Looking at your organization in relation to others and working toward a common goal
When addressing training and education…
Innovation, whether an internal exercise or a multi-stakeholder endeavor, is as tool-dependent as it is process-dependent. In other words, having the right technology in place to capture and process ideas is as important as educating potential ideators, moderators, sponsors, and evaluators on how to best contribute to the program.
Education, however, is a complex endeavor. Emmi Kaipio, open innovation manager at Wärtsilä, described her organization as a "185-year-old" start-up. With this phrase, she alluded to both her organization's experience (many historical learning cycles), as well as its need to continuously reinvent itself. The key to this transformation was none other than the ability to make innovation education stick. To future-proof the organization, employees learned to reject one-off events and indulge in some healthy, blended continuous learning.
For innovation leaders, the message is clear. By combining online microlearning (short, open, online courses) with selected offline activities (one-on-one meetings to discuss progress) innovation can truly become part of your organization's way of working (call it its DNA). Additionally, repeating this exercise at regular intervals can ensure that innovation can properly stick.
From there on, the sky is the limit. The more advanced the innovation program, the more organizations might also consider educating their stakeholders/external audiences in a similar fashion. Fujitsu, for example, co-creates solutions with its customer by creating a joint space for learning and experimentation and fostering a culture of trust. Both online and offline. Similarly, AkzoNobel is engaging with its community of suppliers – known and unknown – to accelerate innovation in paints and coatings.
Practice to retire: One-off innovation training
Practice to keep: Continuous innovation management education
To cite John Brockman, publisher of the online salon Edge.org, "…staying at the cutting edge has as much to do with shedding outdated notions as adopting new ones." Whether seeking a change in culture, scale, their broader role, or the way in which innovation management education is delivered, all innovation managers should continuously scrutinize their activities to achieve greater levels of sustainability and success.
This, of course, isn't easy; but there are plenty of resources to help. The "10 Rules of Innovation Management" interactive e-book is one such resource. Check it out via the link below.