Whether you are new to the concept of gamification or a seasoned professional seeking more examples in action, read on to learn more.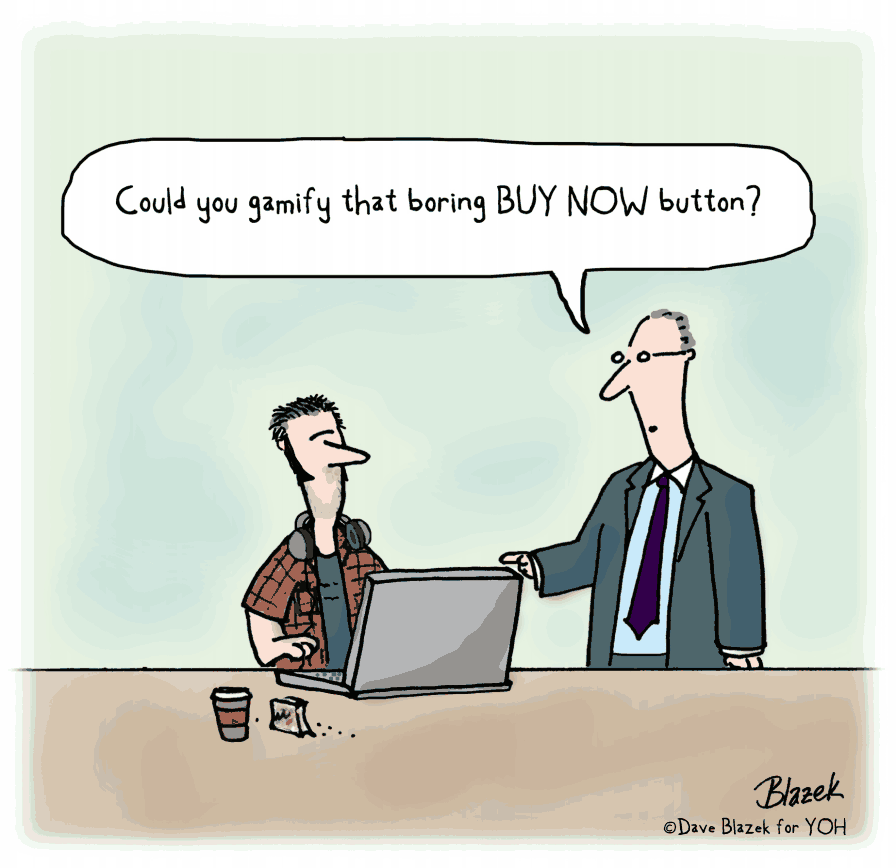 (Source: http://www.developer.com/imagesvr_ce/9079/Yoh.BuyNow.png)
Gamification. The term is everywhere. Turn to Wikipedia and Google statistics, and the two will jointly inform you that (1) gamification principles are currently applied to improve everything from user engagement and physical exercise to data quality and learning and (2) explicit web searches of the term began appearing around 2010 and now rest at record high. In other words, gamification - both as a word and as a practice - is seriously trending.
The term was first coined by Nick Pelling, a British-born computer programmer and inventor, back in 2002, who also gave birth to the very first consulting efforts in this area. Interestingly, Nick's innovative professional service proposition, "to help manufacturers evolve their electronic devices into an entertainment platform" hardly caught on. In his own words: it failed miserably.
It was not until the next decade that organizations finally began to invest in "applying elements of game design to non-game settings" – the definition most commonly used today.
Which areas of a business stand to gain the most from gamification?
According to entrepreneur, speaker, and gamification pioneer Yu-kai Chou, the answer is not straightforward but the size of the firm will generally dictate what matters. In his experience, start-ups tend to seek help with product gamification (i.e., creating a winning product that provides an addictive experience); mid-sized companies prefer to focus on marketing gamification (i.e., attracting new customers within a desired segment and keeping them engaged); while Fortune 500 firms and other large organizations gain mostly from workplace gamification (i.e., training, motivating employees or cultivating solidarity among them in a non-standard, effortless way).
Let's look at one example of each.
Product gamification
Reality Drop is an Internet activism tool that rewards users for "dropping" facts about climate change onto various online forums and in comment fields on hot articles. Its purpose: to dismiss existing rumors and help spread verified facts vis-à-vis what is happening in the world. Launched by The Climate Reality Project, an organization founded by Al Gore in collaboration with Skeptical Science, an organization of volunteer scientists, the gamified web experience has received tremendous attention and promises to become a powerful opinion-changing vehicle in the years to come.
Further reading: Al Gore Gamifies the Climate Change Conversation.
Marketing gamification
The Magnum Pleasure Hunt Across the Internet is what marketing specialists call an "advergame". First launched in 2011, the "Pleasure Hunt" was part of an innovative campaign series created by Unilever brand Magnum to promote its ice-cream products. In a setting reminiscent of Super Mario, a female avatar tries to collect as many chocolates as possible while running across several well-known luxury item websites. In terms of reach, the game was played by over 7.000.000 people and prompted the financing of two sequels.
For more marketing gamification cases, visit: Yu-kai Chou's Blog.
Workplace gamification
Harvard's Stepping up to Management is an online resource that enables new managers to learn their tasks while on the job. The training, which combines content from leading experts with a flexible, modular format, is popular among organizations such as Xerox – known to invest in innovative learning experiences for their employees. In this specific instance, the "Stepping Up" application supports users in transferring their newly acquired skills to on-the-job activities called Quests, as well as connect to other users and social media while in the process.
As we have seen, gamification is a complex trend whose impact reaches far beyond a good publicity stunt. With every new and exciting application, organizations are educating (The Accounted, Stepping Up), raising awareness (Reality Drop), creating engagement (Magnum Pleasure Hunt), and most importantly, securing their competitive advantage in the long run.