Wondering where good ideas come from is like asking: "What makes the world go round?" Everyone has an elaborate, and often charming, theory about it. This article in the Wall Street Journal, for example, amasses a collection of principles from some of the world's most inspiring (and inspired) start-up mentors. Attacking practical problems, venturing into weird places, turning to history and not rushing the process are all valuable advice when attempting to light the creative spark for the next innovation project. In effect, good ideas for innovation can emerge from anywhere and it is usually a persistent (and unique) ambition that lies behind them.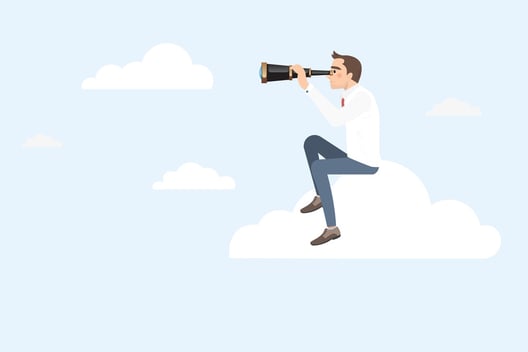 Below is a selection of three such ambitions turned ideas, turned inspiring innovation models.
Ambition #1: Telling computers and humans apart… and digitizing books while in the process.
A CAPTCHA (short for Completely Automated Public Turing Test To Tell Computers and Humans Apart) is a well-known cyber security tool designed to protect web sites from hackers and spammers. It does so by generating a test in which a computer tries to figure out whether it is interacting with a human or not before processing a web form. Essentially, a puzzle that real persons can solve but other computers cannot. Well, not in most cases at least.
According to Daniel Engber of the New York Times (find his article here), the idea for a CAPTCHA first surfaced before the American presidential elections in 1996, when a company called Digital Equipment Corporation set up a website for opinion polls. As partisan hackers started filling the landing page with spam, D.E.C. introduced pixelated images which users were required to click before registering their votes. The solution was effective only in part, so gradually variations followed. It was not until randomly selected and distorted characters were introduced that the system became truly effective. Manuel Blum, a cryptographer at Carnegie Mellon, together with John Langford and Luis von Ahn, were responsible for this development and to some extent, for the CAPTCHA experience today.
A less known fact, however, is that an iteration of CAPTCHA, in addition to securing websites, also helps build a digital library through processes like human computation and crowdsourcing. Despite persistent criticism that words are often difficult to read and that 1 in every 4 users leaves the website when confronted with a CAPTCHA, millions of people now contribute – unaware, highly effectively and daily - to the digitization and preservation of human knowledge by transcribing words.
Ambition #2: Turning a bad customer behavior into a profitable business model… with a fairytale twist.
Jennifer Hyman and Jennifer Fleiss founded Rent the Runway (RTR) after earning their MBAs at Harvard. Far from being just a convenient way to "borrow" a dress, the RTR model adapted a male concept (i.e. tuxedo renting) to feminine fashion, added the "experiential marketing" dimension for young designers and brands and leveraged big data analytics similar to those run by Amazon and iTunes to develop a highly acclaimed business innovation, with sound logistics and an ability to accurately project future trends.
The result? In just four years RTR grew from zero to 3.5 million members, secured just as many "Cinderella moments" and managed to reverse an otherwise upsetting trend: nearly 50% returns in the dress sections at department stores on January 2nd and February 15th. As Jennifer Fleiss puts it in an interview: to some extent, we were just observing behavior and providing an outlet and a legitimate way of actually making that work.
By understanding that an average order value of over $120 spells "luxury" and "aspirational experience" for most, RTR designed an infrastructure that allowed even the most skeptical "recessionistas" to find the look of their dreams at a fraction of the original price, and even receive specialized help while in the process. Populating and strengthening the innovation ecosystem was equally important in the two founders' journey from pure ambition to tangible reality. Partnering with key fashion sources to vary offers (e.g. adding accessories, makeup, styling services etc. to the order), observing consumers and interacting with them as well as having industry experts to the likes of the former COO of Netflix, the founders of Zappos and the former CEO of eBay as advisors to the company were all part of the complex success equation.
Ambition #3: Abolishing planned obsolescence… to build the ultimate, sustainable phone.
"We want to do for hardware what the Android platform has done for software" reads a phrase in an entry dated October 28, 2013 on the Motorola Blog. It refers to Project Ara – a free, open hardware platform for creating highly modular smartphones (endoskeleton + modules) – whose goal is to revolutionize the way in which these devices are designed, customized and especially disposed of. Led by Motorola Mobility and Google in collaboration with Dave Hakkens, the creator of Phonebloks, the project plans to do away with so-called "planned obsolescence" strategies. While the former group provides deep technical know-how, the latter nurtures the community of supporters in an effort to drive a more thoughtful, expressive, and open relationship between users, developers, and their phones.
As in the case of littleBits, mentioned in an older post, as well as in that of Rent the Runway, the innovation community is expected to play a vital part in creating both the supply and demand for components – after all, with a fluid innovation environment in place and low barriers of entry, NPD timelines become compressed, minimum viable products test faster, and final products reach the users much quicker than in a traditional set-up.
According to a recent announcement, the first Ara Developers' Conference will be held on April 15 and 16 this year in the United States. One can only speculate as to when users will finally afford the luxury of experimenting with interchangeable modules and replace/ upgrade only the broken/ unnecessary components (e.g. camera, Bluetooth, battery, processor, screen) of their phone, instead of disposing of the entire apparatus. Irrespective of the date, the innovation model remains inspiring and strong.